About Lake Gaston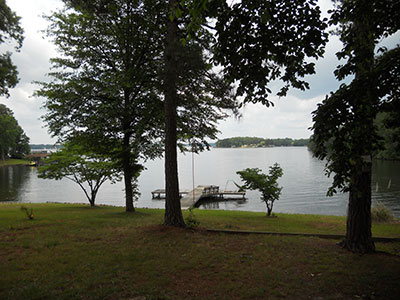 Welcome to one of the most pristine lakes in North Carolina or the USA! With over 20,000 acres and 34 miles length Lake Gaston is 1.5 miles wide across its eastern basin. Over 400 miles of shoreline assures many beautiful homes and lots for future building. The second in a chain of three lakes, Lake Gaston is in between Kerr Lake to the west and Roanoke Rapids Lake to the east.
Gaston borders Mecklenburg County and Brunswick counties in Virginia and Northampton, Halifax, and Warren counties in North Carolina. Normal water height is 200 feet above sea level and only varies one foot plus or minus due to regulation by FERC and the Army Corps of Engineers. Intended for hydroelectric generation Lake Gaston is renowned for its clean waters and recreational use. The World Champion Wakeboarder Adam Fields calls this lake home and operates a school locally, while many fisherman enjoy countless hours perfecting their sport and looking for the catch of a lifetime. Stocked with striped bass, large mouth bass, crappie, sunfish and others, the lake also can yield walleye, perch, and chain pickerel.
Families will enjoy shopping, medical and banking facilities nearby or head to I-95 or I-85 for outlet shopping. Or for that city experience, Hampton Roads, Virginia and the Williamsburg-Jamestown area lie 2 hours east. Raleigh, NC and Richmond, VA are 1.5-2 hours' drive away with airports and cultural events. Restaurants locally will keep the group happy without the long drive and are easy to find. Boats can be rented in several locations and you will have a choice of marinas. Be certain to plan your trip to take in one of the Holiday events such as Fireworks, Boat Parade, Battle of the BBQ, Seafood Festival, Fall for the Arts, Big Air Fair, the Crossing, or Guess Who's Coming to Dinner. It's hard to leave Paradise when you can live there.
Ask about antique shopping, area yard sales, car shows, town festivals, sight- seeing and directions to golf courses. We are happy to share. Better than anything is the time you'll spend with loved ones and friends capturing wonderful memories. Come and enjoy our view!